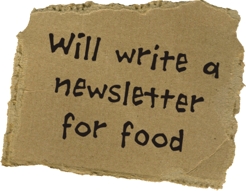 Food for Thought
Resource Coordination Committee Meets
The Resource Coordination Committee of the Staten Island Task Force met Friday morning, July 29, at Christ Church New Brighton.
Resource Coordination (meaning food access in general) is one of the task force's committees (two others are Communications and Advocacy). Food access issues were identified in the Community Food Assessment created by City Harvest in 2009 and refined in a workshop at St. John University in Feb. 2010.
Ideas for Better Food Distribution
Following are three categories of projects and ideas developed during the meeting.
Communication: The SI emergency food organizations need ways to share information about available food resources, transport options, and advocacy issues.
Volunteering: The social aspects of volunteering are the most challenging. It's fairly easy to start a garden or a pantry, but to keep it going requires a big pool of reliable volunteers.
Community Gardens: Community gardens and backyard gardens could be, and in some cases already are, a summer and fall source of fresh fruit and vegetables for Staten Island pantries. The group talked about creating more gardens and the challenges of finding people to run and maintain them. One promising idea is to have seniors and youth work together in community gardens. Another is to connect with science teachers.
Some of the programs brought up at the meeting:
Working Groups
The three areas defined during the meeting now have associated working groups. If you're interested in any of these projects or would like more information, please feel free to contact Susan Fowler, City Harvest assistant manager for the Staten Island Healthy Neighborhood, at 917 734-3746 or sfowler -at- cityharvest.org.